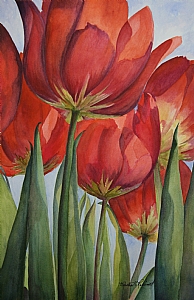 Sunlit Tulips
Watercolor on 300# Arches
17 1/2 x 11 1/2
Original Watercolor
This is one of my most recent watercolors. Spring is in the air...I know it's a bit early to see tulips in bloom, at least here in central Illinois. Yet, I simply couldn't resist. This photo has been in my files for a couple of years now and I figured it was time to see if I could do it justice with a watercolor painting.

I was particularly attracted to the angle of the photo and the way the light and shadows played around on the petals. I will admit, the colors you see here are a tad more vibrant than my reference...but that is our option as artists isn't it? I felt the title Sunlit Tulips was appropriate.

I always thought I would use this reference photo for a drawing...I'm glad I held off and chose to do a watercolor instead.
___________________________________________
Mark 11:24
Therefore I tell you, whatever you ask for in prayer, believe that you have received it, and it will be yours.
Mark 11:23-25
(in Context)