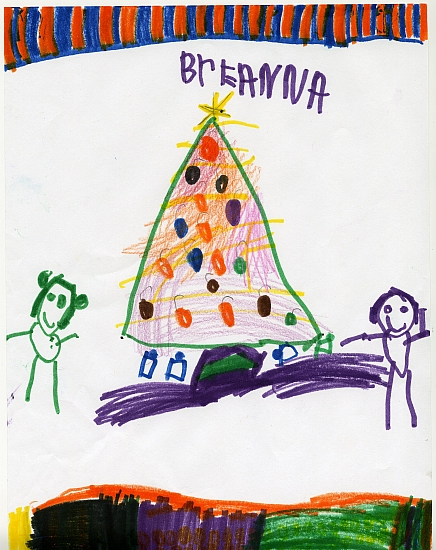 Merry Christmas...by Breanna
I thought I would share the artwork of a budding young artist. My niece Breanna is just 4 years old and loves her bright colors. She has given me several of her cherished drawings and coloring book pages over the years. Each one is a treasure.
I don't get to see her as often as I would like but when together we have a really special connection. She says she is an artist just like 'Aunt Marsha', and of course I totally agree.
She went into great detail to explain that in this drawing she is the figure in green and the circles on the sides of her hair are bows. I am the figure in purple. There are presents under the tree and of course the 'bowl' that the tree stands in. The ornaments each have a little hanger so they won't fall off and there is a bright yellow star at the very top of the tree.
However, Breanna is most proud of the orange and blue 'ceiling'. Breanna lives in Champaign, Illinois and was quick to make sure I understood that 'orange and blue' were the University of Illinois colors. She comes by this honestly as Dad is an Assistant Wrestling Coach for the U of I.
Good 'artist genes' run in this family. Mom and Grandma are both gifted artists in their own right. I'm proud to be one of Breanna's first official 'collectors'. Who knows...these may be valuable some day. Just think, how much would a Monet or Van Gogh childhood drawing sell for today?!
~~~~~~~~~~~~~~~~~~~~~~~~~~~~~~~~~~~
Breanna and I both wish you and your family a wonderful Christmas Holiday and a blessed New Year. Remember why we celebrate and see you next year.
~~~~~~~~~~~~~~~~~~~~~~~~~~~~~
Matthew 11:25
[ The Father Revealed in the Son ] At that time Jesus said, "I praise you, Father, Lord of heaven and earth, because you have hidden these things from the wise and learned, and revealed them to little children.
Matthew 11:24-26 (in Context)
Topics:
Studio Notes