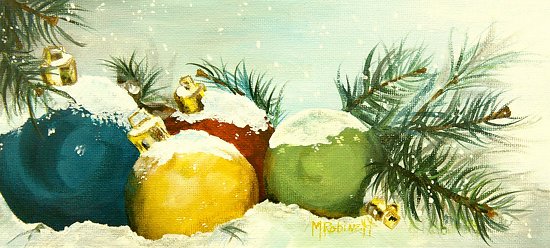 "Snow Bound"
5 x 10.5
Acrylic on canvas
$45
___________________________________________
This little acrylic painting is a contrast in texture. The soft billowy snow, the fragile glass Christmas ornaments and the strength of the evergreen branches.

This painting was both fun and challenging. Trying to make the 'mound' of white on the colorful ornaments look like snow almost wore me to a frazle! In the end, I am happy. Still getting accustomed to working with acrylics but liking them more and more with each painting I do.
This little gem is mounted on acid free foam core board and could easily sit in an easel unframed.
________________________________________________________
Psalm 107:29
He stilled the storm to a whisper; the waves of the sea were hushed.
Psalm 107:28-30 (in Context)
Topics:
Acrylic