Chess in Perspective (large)
<< Previous | All | Next >>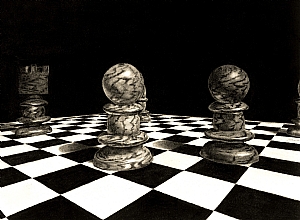 Medium: Carbon Pencil on Paper
Size: 11 x 14.75
Price: $59.00 USD

---
Artist Comments
"Chess in Perspective"

THE STORY BEHIND THE IMAGE
Chess in Perspective is all about the 'perspective'. Not just the somewhat distorted angle of the reference photo I chose, but also from the perspective of the game itself.

The game of Chess is for 'thinkers'. I wanted the viewer to 'feel' the depth of the thought process.
SMALL PRINTS are also available.
---
<< Previous | All | Next >>