Checking the Yield (large)
<< Previous | All | Next >>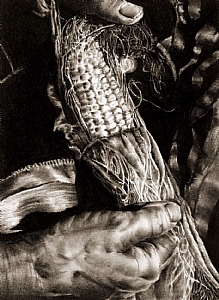 Medium: Carbon Pencil on Panel
Size: 15 x 11
Price: $59.00 USD

---
Artist Comments
"Checking The Yield"

THE STORY BEHIND THE IMAGE
Checking the Yield is reminiscent of my childhood. Having grown up on a farm, my grandfather taught me early on how to tell when the sweet corn was ready to gather for dinner.

I'm thankful now for the memories of simpler times.
SMALL PRINTS are also available.
---
<< Previous | All | Next >>