Game, Set, Match (large)
<< Previous | All | Next >>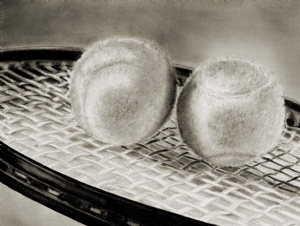 Medium: Carbon and Graphite Pencil on Paper
Size: 11 x 14.5
Price: $59.00 USD

---
Artist Comments
"Game, Set, Match"

THE STORY BEHIND THE IMAGE
This drawing was a challenge. I drew the racket first, had I started on the tennis balls Game, Set, Match would not exist. Getting the tennis balls to appear old and fuzzy required layer after layer of graphite and carbon!
SMALL PRINTS are also available.
---
<< Previous | All | Next >>