Christina Xamis
<< Previous | All | Next >>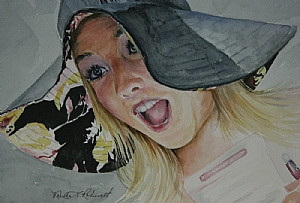 Medium: Watercolor on Paper
Size: 7.5 x 10
Availability: Private Collection

---
Artist Comments
Reference Photo Used:
THE STORY: The photo used for this painting was actually given to me to use as reference for a commissioned pencil drawing. I thought it was a perfectly captured moment in time.

Christina and a friend were on a European Holiday and took in the horse races, fancy hats and all.

I was given several reference photos to use but this one...I simply could not resist!
Her friend took this photo as Christina learned her horse had just won the race. You can see the racing card and pen still in her hand and you can almost feel her spontaneous surprise and excitement. Christina has the most beautiful eyes...and yes, all those lashes are hers
---
<< Previous | All | Next >>