African Violets in Pot
<< Previous | All | Next >>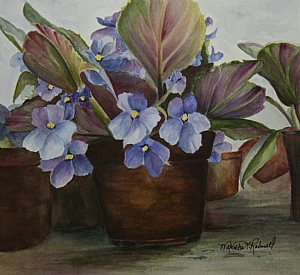 Medium: Watercolor on Paper
Size: 9 x 10
Price: $125.00 USD

---
Artist Comments
"African Violets in Pot"
THE STORY BEHIND THE IMAGE
African Violets always remind me of my Grandmother. I remember how she would start new plants from a single leaf. I found the whole process quite fascinating as a child. When the plants were mature and had blooms...she would carefully wrap the pot in colorful cloth scraps and present them to others as gifts.
She took such care of them...and of course had all these little secret potions. I never learned what she put in the water and certainly did not inherit her green thumb.
---
<< Previous | All | Next >>