Pencil Shavings (small)
<< Previous | All | Next >>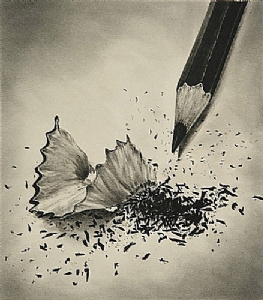 Medium: Carbon Pencil on Paper
Size: 8 x 7
Price: $49.00 USD

---
Artist Comments
"Pencil Shavings"

THE STORY BEHIND THE IMAGE
Pencil Shavings was developed as the 'signature piece' for my blog.

We each make a point...in the way we dress, in how we interact with others, with the things we speak and write, and yes, even with our art.

The Random House Dictionary defines "shavings" as..."the part left behind
or the part that remains after the greater part is removed."

As we move through life, making our "point", we leave "shavings" of ourselves with each person with whom we interact. Be it negative or positive...we are molded by these interactions and enriched by what we receive.
---
<< Previous | All | Next >>